'Happy maker' GalaBingo.com reveals new TV ad campaign
09 Mar 2017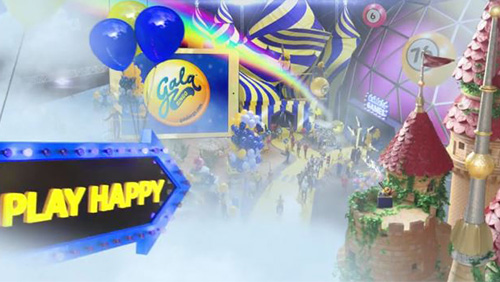 The UKs No.1 bingo site, GalaBingo.com is premiering its brand new TV advert this week, which features a 20ft bingo cake, a marching band and a bingo buggy.
Created by Newcastle-based Creative Agency, Cravens, and filmed in February, the new advert is to be screened on ITV, ITV Be and Channel 5 from 10th March.
The highly catchy 'Ga la la' song, which has been a staple of the brand's TV adverts for some time, remains a central theme, but this new campaign takes things one step further and seeks to convey the truly fun-filled journey that bingo fans across the UK can experience onsite.
Helping highlight GalaBingo.com's mission to spread happiness in everything they do, the new advert has us hopping and skipping along a yellow brick road to where happiness happens. The brand's new 'bingo buggy' is revealed, and players take a spin, discovering exclusive games and experiences not found anywhere else.
Adding further excitement and fun to the journey, the advert features a huge 20ft tall bingo cake, the Ga la la marching band, and an army of happy makers building the bingo-themed world. The entire colourful production is a warm invitation to 'play happy' at GalaBingo.com. Additional edits of the TV advert will follow throughout the year.
Angus Nisbet, Brand Director at GalaBingo.com, said: "In previous adverts we've had the cast of Coronation Street and Emmerdale perform a karaoke version of the Ga la la song; hairdressers, gardeners, football fans and swimmers form a huge, happy choir; and even real players reveal what their 'Ga la la' would be.
"Our mission has, and always will be to spread happiness in everything we do, and in 2017 we're really trying to portray the fun-filled journey that players can experience onsite. We just love to shout, and sing all about it!
Newcastle based creative agency, Cravens that produced the advert, has been working with GalaBingo.com since 2014. They were also the brains behind the majestic Electric Tiger to promote the new Coral Vegas App for Ladbrokes Coral.
Phil Coverdale MD of Cravens said, "Our happy journey with GalaBingo.com continues to be a joyful and successful partnership that keeps going from strength to strength. The gaming category has huge scope to create exciting and memorable creative that demands attention."
RECOMMENDED