Dafabet launch Kenyan Website
17 Mar 2017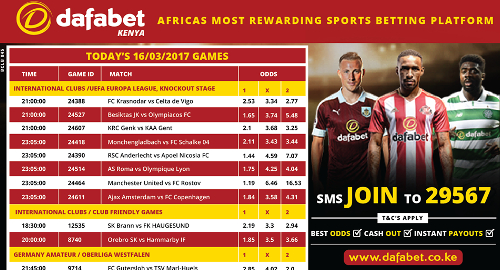 Phillipines-based sports betting firm Dafabet International has launched operations in Nairobi, promising to provide gamblers with opportunities to place bets in 30 sporting events.
Dafabet Kenya director of retail and regional operations Louis Watts said the firm's betting products will be accessed via the Dafabet mobile-based App as well as from its website for sports fans using laptops and desktop computers as well as on short text messages.
Mr Watts added that Nairobi will also become the firm's hub in the planned expansion into other African countries.
"We are looking to expand throughout the African continent and it was important that our first initiative was to establish a major presence in Kenya, a market that is mature and respected due to its sport betting savvy and continues to be a growing sports betting market, thus giving us the stable base from which to grow" said Mr Watts.
Dafabet, he said, will offer daily live UK Greyhound racing among other sporting events across the globe.
RECOMMENDED