Sportium and LaLiga renew sponsorship agreement for two seasons
05 Jun 2017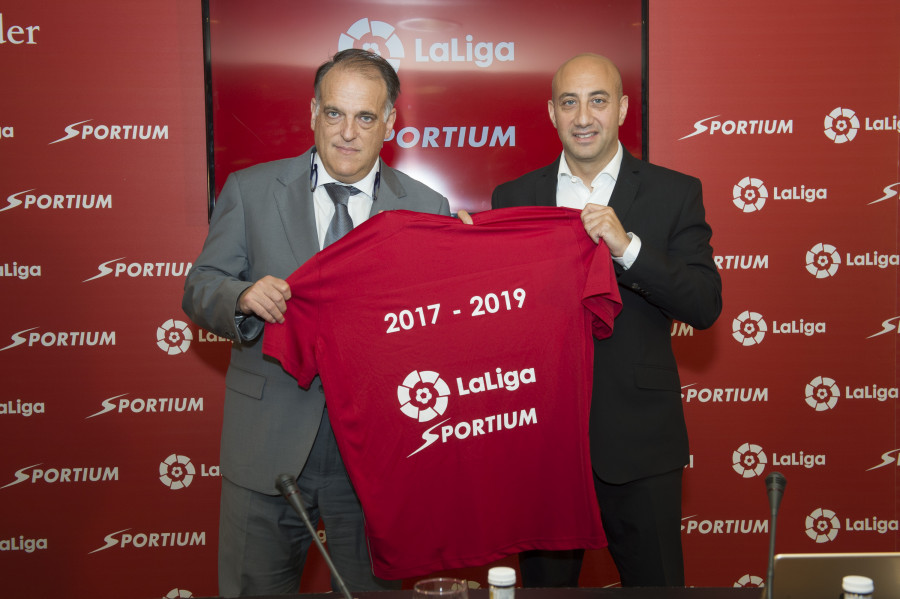 An agreement to keep LaLiga and Sportium together for the next two seasons was unveiled. LaLiga president Javier Tebas and Sportium CEO Alberto Eljarrat were both in attendance at the press conference. 
Tebas explained that, "After three years, Sportium has become a company with close ties to LaLiga and our aims, which is why we want to extend our collaboration for a further two years." The LaLiga president added that, "At LaLiga we work with top-level brands. Sportium is the betting firm that shows the greatest level of commitment to integrity and is entrenched in sporting values, which it certainly shares with LaLiga."
The Sportium CEO Alberto Eljarrat stated that, "It has been a success since the start. It has given our brand great exposure and emphasises the fact that we share intrinsic values, such as fair play and integrity in sport."
Sportium, the number one betting firm in Spain, signed its first sponsorship agreement with LaLiga in 2014, in keeping with the project unveiled by president Javier Tebas and his marketing team. The brand received considerable exposure in the media and became popular among football fans, while collaborating closely with Spain's biggest competition. This new stage will allow Sportium to boost its presence even more in all areas linked to the beautiful game.
The betting firm is intensifying its brand position in all fields related to top-level football in a considerable step forward that reflects the increasing compatibility between both organisations.
This collaborative success has been reflected in a long-term bond in which Sportium and LaLiga share the key values demonstrated in sport, while showing total commitment to the competitions' integrity and detecting any irregularities in matches.
This common goal was behind Sportium's decision last year to join ESSA (Sports Betting Integrity), a recognised body that works on integrity within sports betting on the international stage. It was a way to support Tebas's relentless efforts to boost the competitions' integrity and seek out any irregularities in games. That is why, on 4 April, a new agreement was announced with Jdigital, a non-profit-seeking organisation which Sportium is also part of, in order to avoid bad practice related to match-fixing and to face the battle against illegal sports betting together.
RECOMMENDED