Yggdrasil Gaming launch Golden Fish Tank 2 Gigablox™
27 Oct 2021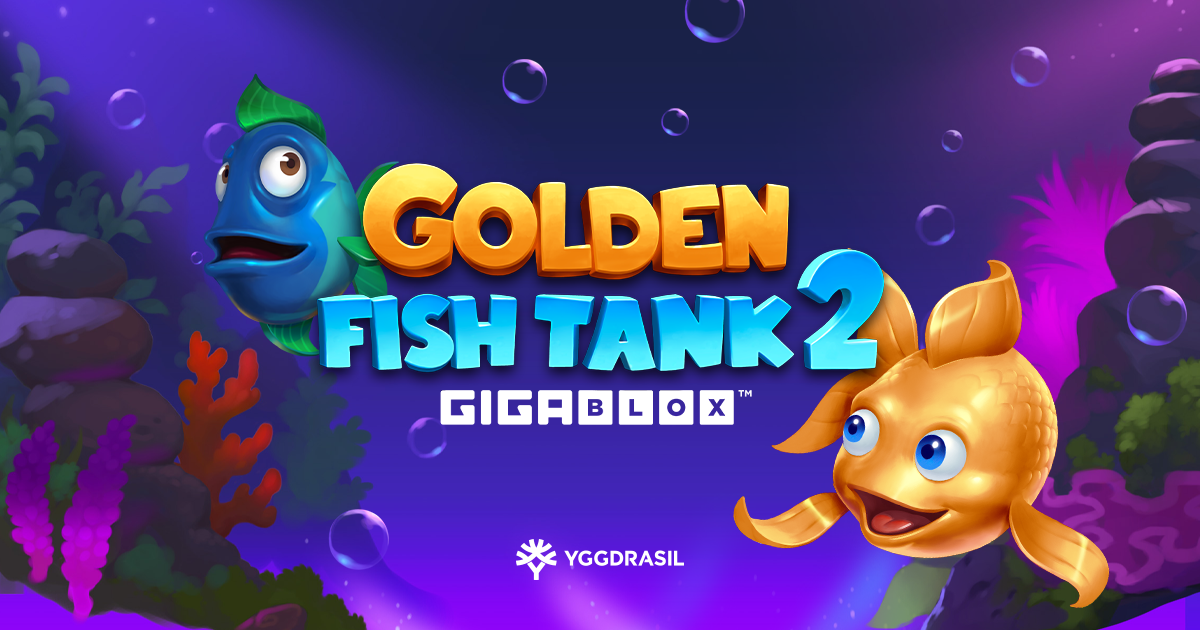 Callum Hayden, Content Manager, Yggdrasil Gaming.
Discover the serenity of the depths below as symbols float around an underwater habitat made up of 5 reels and 20 paylines oriented from left to right. That's right! The fish tank is back! Get ready to dive back in for an ocean full of features!
Coming 28th October, in a sequel to the ever-popular 2016 classic comes Golden Fish Tank 2 Gigablox™! The latest installation brings out the best of the original and introducing Yggdrasil's Gigablox™ to the mix for even more amazing feature combos. Alongside these gigantic GEM blocks, the aquarium is packed with features from Free Spins to a Pick and Click game with new possible Bonuses! In the form of new fish tank accoutrement come bonus chests where players can get even more surprise wins. Tantalising, eh?
The game contains eight regular symbols that win if three or more are lined up in sequence on a payline. Pretty standard stuff. Much on-brand with the range of Yggdrasil's core game offering, players will find themselves immediately immersed in the game's bright visuals and uplifting music. Three or more Free Spins symbols trigger the super exciting Free Spins mode. When Free Spins mode is activated, 18 objects emerge from the depths of the tank and come to life for players to take their pick. When the Golden Bet is selected, an additional item can be chosen. Each object contains a hidden feature which will be activated for the entire duration of the Free Spins.
So, there's a little about what players can expect when it comes to features. But what about the base game? Let's take a look.
Golden Fish Tank 2 Gigablox™ operates over an exceedingly generous six reels, four rows and 25-40 paylines from left to right. The game has 4 regular high paying symbols, represented by fish and 4 low paying symbols represented by card ranks. There is a wild symbol that substitutes all regular symbols and has its own payout. There is also a Free Spin symbol that appears in the base game only.
A sequel to poular Golden Fish Tank, new installation brigs what's best about part 1 while adding Yggdrasil's Gigablox™ to the mix for even more amazing feature combos. Game is set in the same environment as the original aquarium, and features the core Free Spins with special features chosen in a Pick and Click game with new and excitingpossible bonuses. The new addition of the bonus chest on the fifth reel gets players even more perks and surprise wins.
At a glance then, the games unique key selling points are, much like Yggdrasil's Vikings franchise, the continuation of popular Golden Fish Tank series sees this plucky little tank dweller breaking out into some success of its own which a fun, fresh and ultimately engaging theme. The Gigablox™ mechnic serves only to augment the fun by allow allowing interesting wins even in base game before a scatter has even had a chance to make an appearance. Add to all that that the easy to understand win potential in Free Spins due to feature combos and magnified wins with Gigablox™ symbols means Yggdrasil have created a recipe with Golden Fish Tank 2 Gigablox™ that will appeal to everyone. And that doesn't just include fans of Golden Fish Tank or even fans of Gigablox™, but rather all players chasing games with high win potential as well as Streamers who, armed with the awesome Pick and Click game can surely enjoy some additional audience engagement.
So… We've taken a good hard look at the fish tank in brief. Let's really dive into some features now, shall we?
Free Spins
Free Spins are awarded for 5 or more Free Spins symbols landing. Gogablox Free Spins symbols count as multiple symbols, and each one awards 1 Free Spin. Before entering Free Spins, player chooses special features in Pick and Click minigame, enhancing the Free Spins session.
Gigablox™
Each spin, one or more of the reels will become gigablox reel with symbol from 2×2 up to 4×4 in size. In free spins, if expanded reels feature is triggered, gigablox up o 6×6 may appear.
Treasure chest
Treasure chest awards a random prize of cash, Free Spins session or Extra Free Spins if landed inside Free Spins mode.
Pick & Click feature combos
In Pick and Click the following features can be won for Free Spins session: Wild Fish – one of high symbols will change to wild for the whole session X2 multiplier – all wins in session will be multiplied by 2 Expanded Reels – The reels are expanded to 6×6 with more paylines and 6×6 Gigablox Extra Wild – 1-2 symbols will randomly change to wild each spin Fish Stacks – 1 fish symbol becomes super stacked on the reels Extra Free Spins – 1-5 extra Free Spins Features can create combos, like wild fish + stacked fish resulting in stacks of wilds, or extra wilds with Expanded Reels, changing giant Gigablox to full screen of wilds.
So, that's it! A whole aquarium of awesomeness right at players' fingertips. And the fervent fever bubbling up from this underwater adventure is soon to be quelled with an imminent release (28th October 2021) just in time for Halloween! Not that there's anything spooky lurking in the tank; merely an observation.
Get set to dive into the splashing autumn adventure Golden Fish Tank 2 Gigablox™ fresh from the studios of Yggdrasil!
RECOMMENDED