Friend becomes foe in Merlin and the Ice Queen Morgana
25 Nov 2021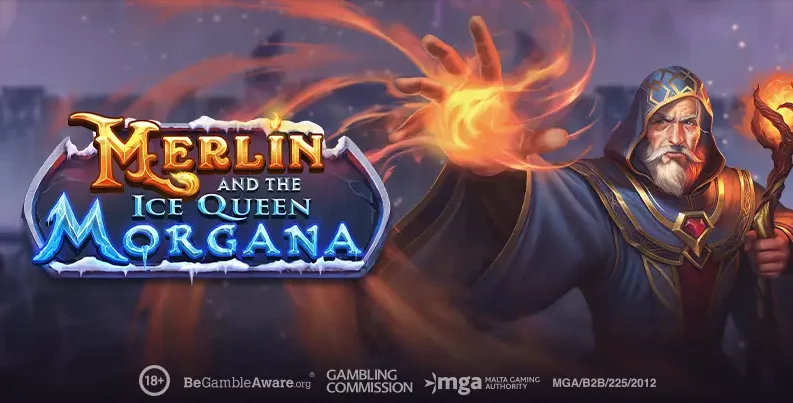 Play'n GO's Merlin series continues to be a hit amongst players; we predict that this addition will be no different.After her brother King Arthur's coronation – Morgana flees Camelot. Determined to find his former apprentice, Merlin begins his search only to find a frozen wasteland.
The Ice Queen has claimed this land as her own. Locals fear her power. But who is this wicked witch? Well, she's no more than Merlin's apprentice – Morgana.
This game sees an Expanding Wild Multiplier on the reels; a feature that players love. Before Free Spins start, a symbol is randomly selected which will become a Special Expanding Symbol throughout the session. Expanding triggers only if enough symbols for a win are present; they don't need to be adjacent to create a win line.Merlin's staff serves as a Scatter Wild as he casts his spells across the reels. Morgana also plays a part on the reels as a Special Wild which can land one, two, or fully stacked symbols on one reel. Once fully stacked this symbol will activate the Multiplier.Players will be able to follow the narrative through the clever use of changing backgrounds and reel visuals. Merlin starts outside of the Ice Queen's palace making his way inside to confront Morgana. Paylines are highlighted by Merlin's magic staff and Morgana casts an icy spell freezing the background with snow and icicles.
Head of Games Charlotte Miliziano said:"Players love the Merlin series, we have already explored his relationship with the Lady of the Lake and wanted to dive deep into one of his more turbulent relationships. A little darker than its predecessor, Merlin and the Ice Queen Morgana embody the battle between good and evil.
"There's another reason we enjoy working on these kinds of series. Like with Merlin, King Arthur and the gods of Norse mythology, new players already have some knowledge of these characters. They can fully immerse themselves in the narrative regardless of whether they've played our existing games."
RECOMMENDED