Pronet Gaming unveils new growth strategy
13 Dec 2021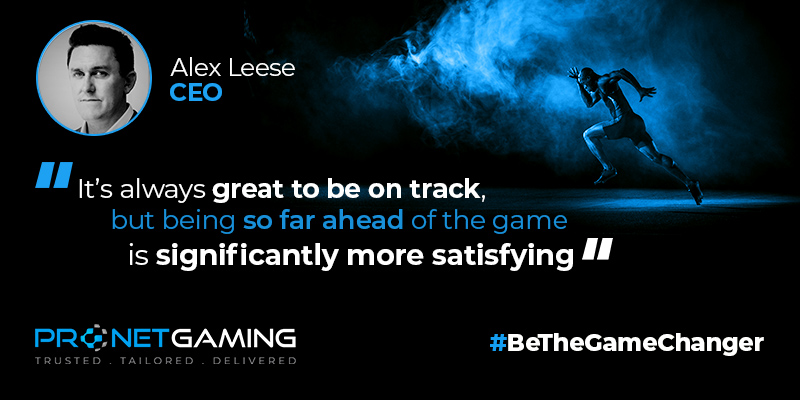 Platform specialist Pronet Gaming is significantly ahead of its three-year growth plan after just 18 months, according to CEO Alex Leese. The progressive provider's platform solutions are increasingly popular across global markets, including Africa and LatAm, and have delivered a two-fold rise in turnover.
Its esports and virtual sports product lines have exceeded all expectations with 300% growth, following successful content integrations and upgrades from fellow providers like Golden Race, UltraPlay and Sportradar.
Pronet Gaming has signed over 35 new clients in the past 18 months since Leese kick-started the plan for the company's new owners.A cornerstone of his plan of action was the release of a number of industry-first features, including Fastbet, which has helped to maximise the player experience. This solution enables users to wager multiple single bets across all sports at the touch of a button without creating a betslip.
As well as this, its Popular Bets and Popular Events widget automatically displays the bets and events that are most popular in a jurisdiction, refreshing every five minutes – an innovation that has seen massive uptake since its release in October.
By offering an entirely modular system, Pronet Gaming's clients have been able to cherry-pick the sports betting features that suit their unique needs in regulated markets, allowing them to create fine-tuned experiences for their audience that increase revenues while retaining and engaging players.
Their focus on customisation, speed-to-market and product innovation has also led to a string of industry awards recognising Pronet Gaming this year, including the Gaming Intelligence Awards, EGR B2B Awards and Starlet Awards, as well as being shortlisted for the upcoming SBC Awards and Global Gaming Awards.
Alex Leese, CEO of Pronet Gaming, said:"Operating in all the right regulated markets is really paying off. It's always great to be on track, but being so far ahead of the game is significantly more satisfying, particularly considering the challenges we've faced during this time."This degree of growth in such a short space of time is even more than we had hoped for, but we are not slowing down any time soon. We will continue to see that our partners receive a first-class product.
Ioannis Skoulides, Pronet Gaming's Chairman, said: "We have seen a great deal of change globally over the past two years, but since taking over Pronet Gaming in 2019 we have seen unparalleled growth and thus the decision to appoint Alex as CEO has proven to be a resoundingly positive one."That has been exemplified not only our by growth over the past 18 months, but also by Pronet Gaming's nomination for three categories in the upcoming SBC awards as well as our expansion into so many new markets."
Bobby Longhurst, Pronet Gaming's CCO, said: "These are hugely positive results, butour success story has only just begun. We are excited to build upon the momentum we have generated by continuing our expansion plans and stretching our international footprint even further into more regulated markets."The next big step will be attending ICE 2022, where our stand will be three times bigger than our inaugural one in 2020."
RECOMMENDED