Florageddon! DuoMax – Yggdrasil's slot of the season
25 Oct 2022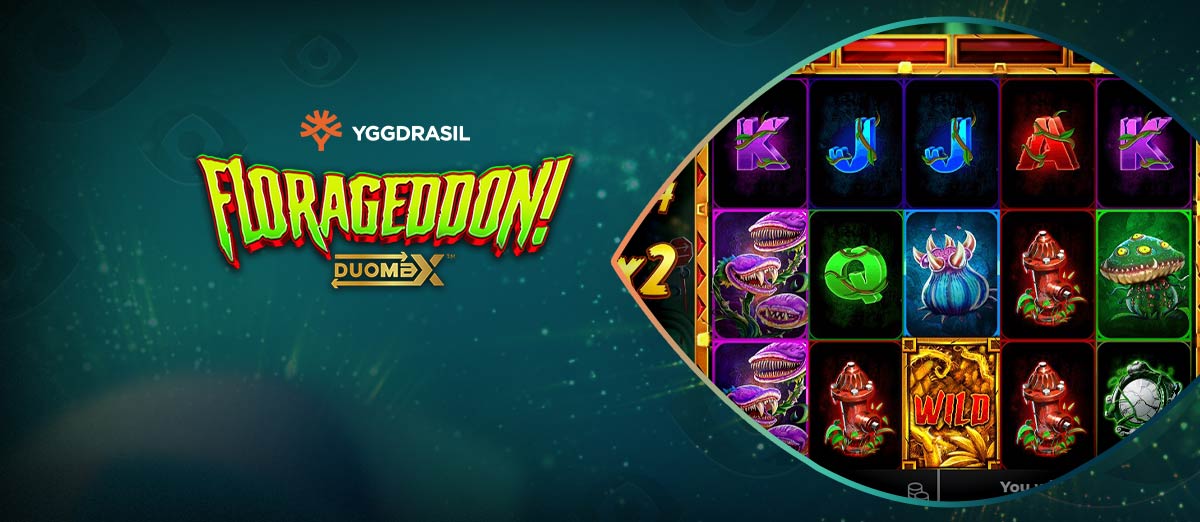 Imagine this – you've woken up a few hundred years in the future. What does life on Earth look like? Maybe you'd see flying cars, extremely intelligent computers, people teleporting from one place to another, or even some possibly moving to Mars… Certainly not the complete downfall of the human race.
Florageddon! DuoMax will take you to that alternate reality where frightening carnivorous plants terrorise humanity as they do everything in their power to take over our planet. Having a uniquely verdant theme, this slot will take players to a world that is overrun by foliage that only brave players can destroy.
Fuelled by amazing game features such as the DuoMax mechanic that places paylines and multipliers on either side of the reels, we can see how our players would enjoy having a go the reels of this slot. As brave players spin the vine-like reels, they may get lucky enough to win and see the Dropdown Feature in action, where winning symbols are removed from the reels, leaving room for new symbols to drop down and therefore making room for more possible wins. A Wild flora symbol also takes one of the positions of the brand-new symbols.
As players forge ahead and continue to vanquish the dreadful flesh-eating flowers, skull symbol scatters may be triggered, which will award Free Spins. 3 scatter symbols would land 7 Free Spins, 4 scatters would land 9 Free Spins and 5 scatters would land 11 Free Spins. If a player is totally adamant on vanquishing the terrifying flora, there are multiple ways to get some additional Free Spins, such as choosing to gamble all of their Free Spins. This can go either way, as a player would either win up to sixteen Free Spins or lose their initial bet completely.
If a player would like to surpass the potential wait to trigger some Free Spins and immediately enter the mode in hopes to vanquish some mean flora, the Buy Bonus feature is there to break that boundary. The Mega Buy Bonus, or Super Free Spins mode can get you an impressive 16 Free Spins for 400x the stake, whereas the regular Free Spins Buy Bonus can either land you 7, 9 or 11 Free Spins for 3/4/5 scatters, against 100x the stake.
On top of this, the post-apocalyptic game features Special Rewards like no other. With every consecutive win against the daunting plants, your chance to get rewarded increases. As players gather a total of four consecutive wins and increase their special rewards dropdown counter, they'll be given either of these four rewards:
A Multiplier Boost, where both multipliers are boosted by an impressive 10x;
A Double Wild, which has two empty positions filled by a wild instead of one;
A Wild Stack, where 6 wilds will be added to one reel at random; or
An Extra Life, where a non-winning dropdown in the current game round will be cleared entirely and a new set of symbols will drop in, giving the player a fresh new chance at triggering a win.
An incredibly novel feature of Florageddon! DuoMax that makes it incredibly thrilling for players is its innovative multiplier, aptly named Both Way Multiplier as it pays from both the left side and also the right side of the reels. Not only does this give players a higher chance of obtaining a win since paylines are on either side, but it could also increase the number of wins since Wilds dropped after a win on one payline could trigger wins on the other. So, if one keeps triggering wins across the five reels, the wins are multiplied not just by one multiplier but two, both of which could rise to impressive heights. During the Free Spins mode, this multiplier does not reset, and it has the potential to climb to infinity!
Stuart McCarthy, Head of Product and Programs at Yggdrasil says that "we're incredibly thrilled to be launching Florageddon! DuoMax, a standout game featuring cutting-edge gameplay and features. We're so excited to see what our players will think of this innovative theme and how we can keep bringing back themes that they will enjoy playing!"
We are all incredibly excited for the launch of our latest innovation Florageddon! DuoMax, We hope that our players will enjoy spinning the reels of this post-apocalyptic universe and destroy some terrible carnivorous flowers along the way!
RECOMMENDED