Stake & Her Game Too team up for Merseyside derby
24 Mar 2023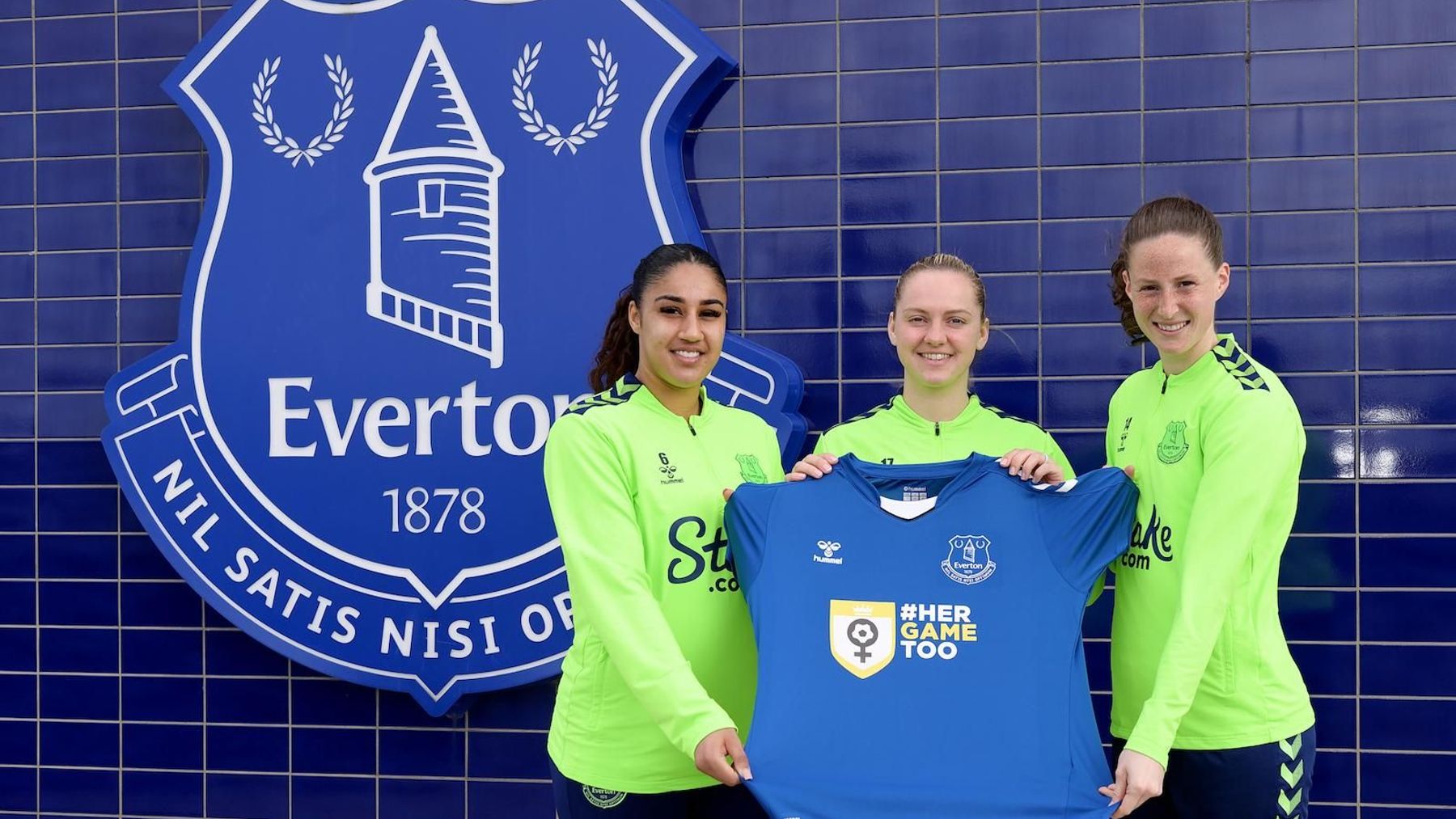 Everton Football Club's Main Partner Stake.com is collaborating on a number of initiatives with Her Game Too ahead of tomorrow's Barclays Women's Super League Merseyside derby. 
The centre point of their collaboration will see Stake.com donate the space on Everton Women's pre-match warm-up t-shirts to Her Game Too allowing the campaign's name to be visible to an international television audience.
The shirts will then be donated to the campaign, which champions women in sport and tackle sexist and online abuse.
Her Game Too has confirmed they will distribute the t-shirts to selected grassroots football teams, equality organisations and auction some of them to raise money for local charitable causes.
In December 2021, Everton became the first top-flight football club to formally support Her Game Too. Since then, a number of activities have taken place to raise awareness and challenge misconceptions of women in sport including Gabby George and Seamus Coleman becoming the first two top-flight players to become official campaign ambassadors.
For tomorrow's historic derby fixture, Stake.com has donated the use of their Goodison Park Executive Box to Her Game Too. The campaign group will seek to use the VIP experience to reward advocates who have helped shape and deliver some of their Merseyside initiatives. Representatives from Everton's and Liverpool's Women's Supporters' Clubs, Everton's Her Game Too network, both club's Her Game Too Ambassadors, as well as guests from the Everton Fans' Forum (past and present) who helped bring the partnership with the Club have been invited.
Dominic Rae, Sponsorships Manager at Stake.com said: "We are delighted to have worked with Everton to provide this platform for Her Game Too. The work they do is fundamental to everyone's enjoyment of football and we hope this collaboration can bring further progress. The stage is set for a big night under the lights at Goodison and another cracking derby game."
Stake.com has a proven commitment to supporting women in sport through their global sporting and partnership agreements. Alongside their backing of Everton's and Watford's women's football teams, they have provided crucial support for Brazil's national Women's Rugby League team, who became the first South American nation to compete in a Rugby League World Cup last year.
They also have sponsorship agreements with two female UFC fighters in Mexico's Yazmin Jauregui and Alexa Grasso. Stake Ambassador, Grasso, recently hit headlines by becoming the Flyweight World Champion and first Mexican woman to win a UFC title.
Roopa Vyas, Director at Her Game Too, said: "Everton's support for Her Game Too has been a shining example of how clubs can spread our message that 'Football is a game for ALL'.

"Their support has been entirely authentic and we really appreciate the backing from staff and players such as Seamus and Gabby, and now Everton's main partner, Stake.com. For the players to wear our logo on their warm-up shirts in a Merseyside derby is huge, and we thank Stake.com for supporting our cause.

"We will use this fantastic box experience to say a massive thank you to everybody who has helped bring this partnership to life and celebrate Her Game Too x Everton."
RECOMMENDED