A Taste of Success – The Delectable Use of Character in Slashimi 2
26 May 2023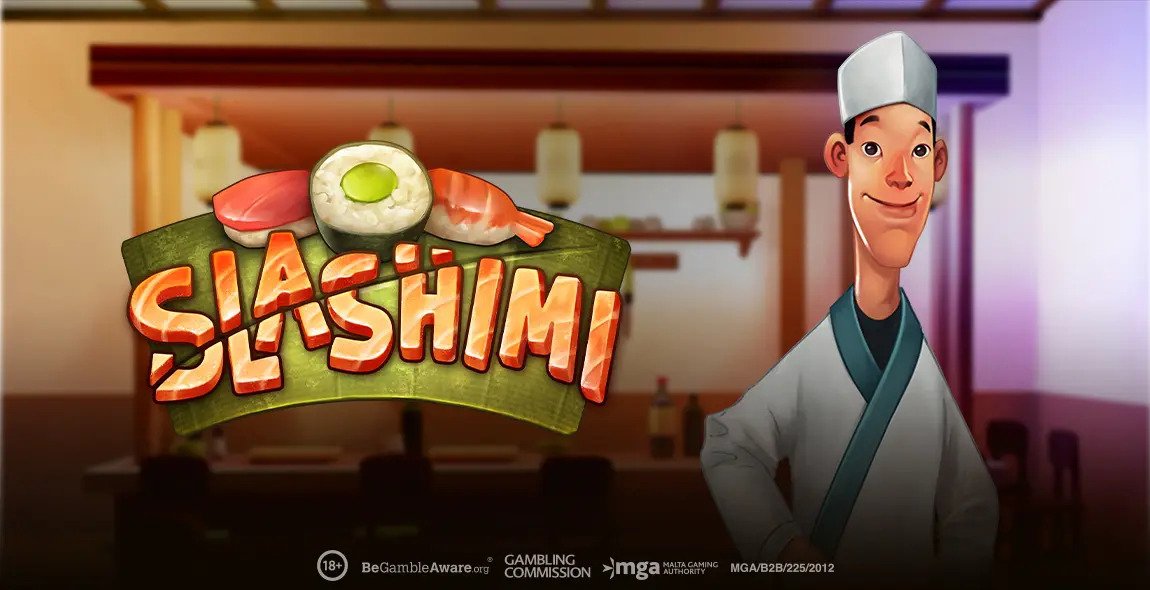 Charlotte Miliziano, Head of Games, Play'n GO.
When it comes to online slots, or games in general, the importance of character cannot be overstated. While actual gameplay can make or break a game, it's not the only factor to consider when weighing up its success.
In a gaming industry that has become saturated with generic, uninspired offerings, a well-developed character can be a true game-changer, elevating the experience of players substantially. Something Play'n GO know all too well.
Enter Slashimi, the recently released slot game from Play'n GO that serves up a delicious blend of character-driven storytelling and great designs as well as innovative gameplay. These three components make for a truly immersive gaming experience. At the heart of this culinary creation is the charming Chef Jiro Miike, whose presence is felt throughout every aspect of the game, leaving players craving more.
Slashimi is a refreshing departure from traditional slot games, offering a unique take on the genre by incorporating a strong focus on its main character into its core mechanics. Set in a quaint sushi restaurant, players are served by Chef Jiro Miike with the goal of creating winning sushi paylines across its three reels. They will also aim to land the Golden Wasabi Scatter symbols to earn the Free Spins round. During this round, players will choose one of the symbols from the base game to become split and sticky for the remainder of the round. This keeps them on the reels and increases the chances of winning paylines occurring.
The character of Chef Jiro Miike plays a pivotal role in Slashimi, as his mastery of the culinary arts influences the game's theme, story, and gameplay. By comparison, other popular Play'n GO slot series occasionally have their own narrative focus. The Book of Dead series, and its protagonist Rich Wilde, focus on exploring ancient mysteries and treasure hunting across the globe. While both the Book of Dead series and Slashimi employ intriguing characters, Slashimi distinguishes itself by showing that great character development doesn't have to be the product of years of exciting new additions to an IP. Chef Jiro Miike's skills and personality drive the game's mechanics and progression, and immediately draw players into this world, endearing them to the talented chef.
A prime example of this character-driven gameplay is the "slicing" mechanic, where Chef Jiro Miike expertly slices certain symbols in half, creating up to 1000 payways. This innovative take on the Dynamic Payways feature not only adds an element of excitement and unpredictability but also serves to showcase the chef's extraordinary prowess. From the calm and collected chopping during the base game to the samurai-style sushi slicing in the Free Spins round, it's immediately clear that this is a man of great talent. The integration of the character into the game's mechanics adds depth and dimension to the overall experience, demonstrating Play'n GO's approach to creating player-first entertainment.
Chef Jiro Miike's appeal extends beyond his skills in the kitchen. As a fully realised and animated character, he portrays charm and charisma that aims to captivate players and pull them into his world. This level of character detail is similar to that of one of Play'n GO's other recent releases, Gerard's Gambit. This educational, expanding slot successfully merges accessibility and entertainment, making use of narration from Gerard himself throughout the game. It also features immersive gameplay progression to keep fans engaged.
This use of character, while being used in slightly different ways between both titles, is a testament to how much this can influence the level of enjoyment players can get from a game. Similarly, this focus on character development could even influence how often players choose to return to a game, how long they play for each time, and even how likely they are to recommend it to others.
Ultimately, Slashimi demonstrates the power of character-driven storytelling in online slots, showing that it's not just AAA RPGs and adventure games on mainstream consoles that benefit from this consideration. Chef Jiro Miike's kitchen-based expertise and magnetic personality permeate the game's theme and mechanics, creating an engaging and immersive experience that stands out in a crowded marketplace. This focus on character development not only sets Slashimi apart from other popular slot games but also appeals to players seeking a deeper connection to the games they play. In the world of online slots, Play'n GO's Slashimi is a true testament to the importance of character and the potential it holds for helping this industry continue to evolve.
RECOMMENDED